Kitesurfing in Cape Verde
Cape Verde is home to local world champions who have put the country on the map in the kitesurfing world. The islands are becoming increasingly well known as a kite surfing spot, as the conditions are ideal! The wind blows most of the year, the sea water is pleasantly warm and you will find tropical spots for both beginners and advanced surfers.
Top conditions for kitesurfing
The wind blows almost constantly in Cape Verde and is strongest between November and April. The wind always blows from a north-easterly direction, which makes it easy to estimate the spots. Most spots are fairly quiet compared to other countries, which is good for practising your technique. In the winter months the daytime temperature never drops below 23 degrees. So the sea water is never very cold and the sunny days provide the tropical atmosphere. It was not for nothing that we said that the conditions here are top!
Home of the world champions and strapless riding
During your stay in Cape Verde you will notice that the local surfers usually ride a strapless kite. No kiteboard to put your feet on, but a regular surfboard that you lift into the air just like that.
The strapless discipline was created about 20 years ago on the island of Sal by former world champion Mitu Monteiro. As a child, he learned to wind- and kitesurf in Santa Maria. There were few kiteboards to use so one day Mitu took a surfboard into the water. He noticed that this technique went quite well and specialised in strapless riding. The other surfers adopted this style and before they knew it, the strapless kitesurfing discipline was born. Because the local riders prefer to ride strapless, they are known worldwide for their good skills in the sport.
Former world champion Mitu Monteiro continued his work and opened a kite school at Kitebeach together with local talent Djo Silva. Other world champions Airton Cozzolino and Matchu Lopes also grew up in Sal and learned strapless riding from a young age.
Cape Verde is a small place which makes the surf scene easily accessible. Improve your technique by taking lessons from national and international kitesurfers at the many kitesurfing schools and have a drink with them after the lessons!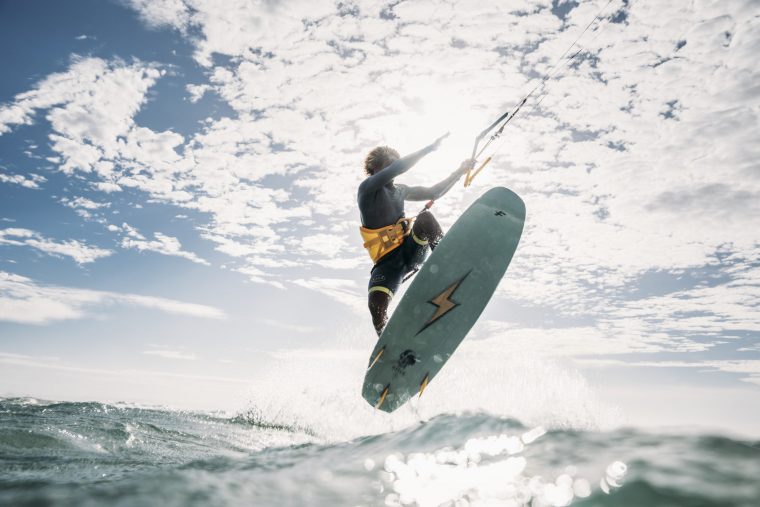 Kitesurfing schools
On Sal and Boa Vista more and more certified kitesurfing schools are opening their doors. We from Bobbywashere work together with local professionals and advise you gladly about the different kiteboarding lessons and/or rental equipment.
A place for everyone's level
Sal and Boa Vista have many surf spots with on- and offshore wind for beginners and advanced kitesurfers. There are spots where many surfers are practicing, but there are also secluded beaches where almost nobody is. Whatever your level is, we at Bobbywashere can put together a custom package with your preferences.
Kitesurfing on Sal
Sal is the homespot of the most famous Cape Verde kitesurfers. Strapless riding originated here and is very normal with the locals these days. Santa Maria is the tourist village and breathes the surf atmosphere. The most famous place on Sal to learn kitesurfing is Kite Beach, but also in Santa Maria itself you can easily go from the beach into the water with your board. Read more about kitesurfing in Sal.
Kitesurfing on Boa Vista
Boa Vista is less well known for kitesurfing than Sal, but that doesn't mean it's inferior. On Boa Vista you can surf the clear waters of Sal Rei Bay in peace and quiet with no oncoming traffic. This bay is 5 km long and has beautiful white sandy beaches and cosy beach clubs with a tropical surf atmosphere. Our holiday flats are all within walking distance of the kitesurfing schools. Read more about kitesurfing in Boa Vista.