Kitesurfing on Sal
Ride with the locals on Kite Beach in Sal!
Sal is the best known island in Cape Verde for kitesurfing. The cosy surfing village of Santa Maria is a good base for a kitesurfing holiday. You will find numerous surf schools of (inter)national riders and holiday flats near the beach. The surf spots in and around Santa Maria have a great atmosphere and ideal conditions for both beginners and advanced surfers!
Kite surfing in Sal for all levels
The Mitu & Djo Kite school is the place to be for beginners and advanced surfers. On the beach of Kitebeach, lessons are given by local IKO certified kitesurf instructors. Even if you don't take lessons, you can get lots of tips & tricks from the kitesurfing pros. Mitu Monteiro, the former world champion is at the school daily during the winter months. He likes to share his passion and often organises fun events. The school also has a restaurant where you can have a nice bite to eat from morning to late afternoon. Many local surfers chill out after surfing in the club with a cocktail and nice tunes. Even if you don't kitesurf, it's a nice place to discover the local atmosphere.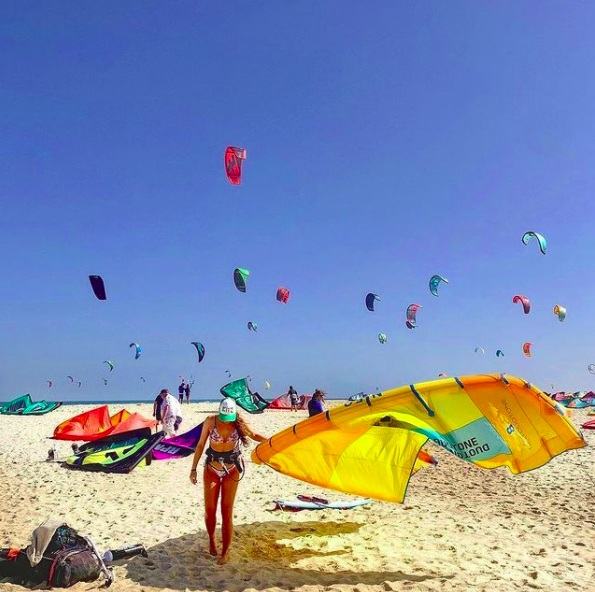 Kitesurf spots in Sal
Kitebeach: the most famous spot in Cape Verde for kitesurfing. Besides the school of Mitu and Djo, more and more kite schools are opening their doors. The wind blows onshore and it is a place for both beginners and advanced surfers. Mind you, in the winter months it is quite busy on the water.
Ponta Preta: the legendary beach where the locals look for adrenaline and prepare for competitions. Only advanced kite surfers can enter the water here. Ponta Preta is a rocky beach, with an offshore wind and sometimes powerful waves of up to 4 metres. The high waves created a lagoon on the beach where less experienced surfers can practice.
Santa Maria Bay: On Santa Maria beach you can wave and windsurf, but also kitesurf in some places. In front of the Hilton hotel, the sea is calm and you can easily enter the water. From the beach club Angulo, you can kitesurf to the end of the island with strong wind conditions.