Boa Vista kitesurfing for beginners
If you are a beginning kitesurfer visiting the island of Boa Vista you are at the right place for kitesurfing lessons and more. If you have never kitesurfed before, you can take kitesurfing lessons at kite school KiteKriol. Kitekriol is an IKO certified kite school. We recommend 10 hours of lessons, on average you can then practice by yourself. Those 10 hours will last you about 4 days. Of course you can also use your hours in more or fewer days. If you want, you can also take private lessons or in a group lessons with a maximum of 3 people.
Also kitesurfing for beginners with more experience
Have you already had a few lessons before and would you like to practice your skills at Boa Vista? The island has the perfect conditions for this. It has long outstretched sandy beaches and the trade winds during the kitesurfing season ensure good kiting conditions. The kite spot that is closest to the apartments is Praia Carlota/Kitekriol. The wind is off-shore on this spot and because of this we also recommend to station you at the kite school. They will keep an eye on you and possibly pick you up with a boat.
Kiteschool KiteKriol
BobbyWasHere partners with KiteKriol, an IKO certified kite school that is led by local heroes Mite, Joke and Yuri – the best kiters from Boa Vista. KiteKriol is located on the beach of Carlota, next to popular beach club Morabeza and just a 10 minute walk from Sal Rei. The sand is white and the sea is free of coral, rocks and other obstacles guaranteeing safe injury-free rides. The wind is off-shore and you can walk up to 5 meters into the sea. KiteKriol has two boats they use for lessons and rescue. The team watches every kiter closely and in case something happens they pick you up. If you do not have your own kitesurfing equipment yet, you can rent it at KiteKriol. They work with the brand F-one kites. You will love the friendly and relaxed atmosphere and enjoy the fresh drinks and after kite BBQ's on the beach!
What to expect of 10 hours of kitesurf lessons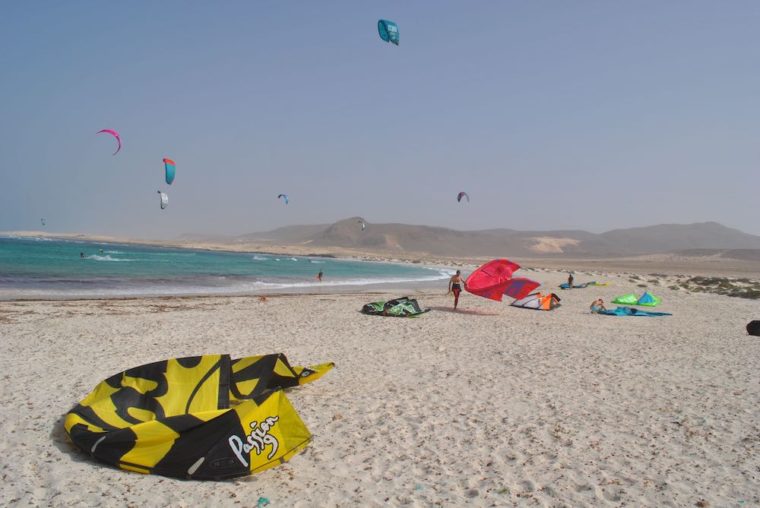 You will be welcomed at the kite school and presented to your instructor. After the theory and explanation about the basis of kitesurfing (think of safety, materials etc.) you can start the lesson. The first few hours are spent on the beach, this is important to learn to get used to your kite and be able to control it, to be able to evaluate the environment and flight setups. When you have this under control you will enter the water and start with body dragging (enter the water without board).
The lessons are divided into the following 5 steps:
Introduction
Wind direction, safety, direction control
Body dragging
Water start and body position
Improve your body position (full kite surfing)
They end when everything is complete and you have had a nice session, not when the clock says so.
Stay in one of our apartments
Are you still looking for a relaxed apartment for your stay on Boa Vista? Take a look at our apartments.